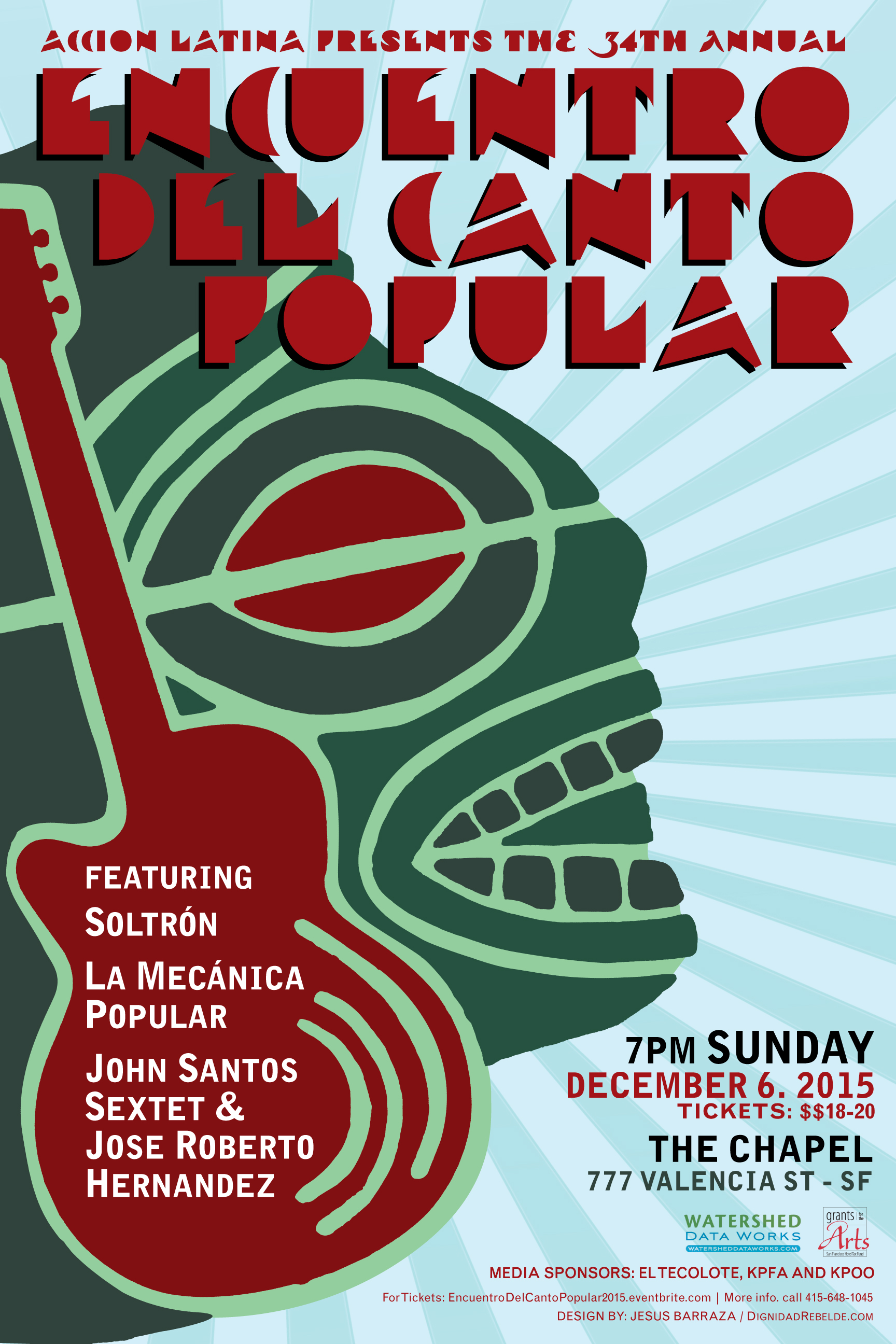 Get tickets for this Sunday HERE
I'm super proud to be working with new client Accion Latina out in San Francisco for their 34th Annual Encuentro Del Canto Popular this Sunday.
While it may seem that more and more folks are recognizing the benefits of working collectivity as shit hits the fan, Accion Latina has been an example of co-creation for 45 years in the Mission District.
Besides working their mission to "promote cultural arts, community media and civic engagement as a way of building healthy and empowered Latino communities," the organization has been printing a community bilingual newspaper, El Tecolote, which has been FREE all this time, too! So amazing.
It's our duty in such fast-paced times to recognize organizations who continue to do work and build space in times of crazy development. That is why I feel so proud to work with this spectacular group of people.  We all have a lot to learn from each other!
Check out the details for this Sunday's historic concert:
On December 6, Acción Latina Community Center, home of the nation's oldest bilingual newspaper, El Tecolote, will host an encuentro or a "discovery"featuring music groups from all over the country and local groups who have called San Francisco home.
This event comes in the midst of a narrative around the Mission's tech-fueled development in the last decade and is inspired by President Obama's groundbreaking decision to improve political relations between Cuba and the United States.  
Encuentro del Canto Popular will include three ensembles that represent the diverse rhythms and music of Cuba and the Caribbean. Bay Area's own John Santos and the John Santos Sextet with special guest Roberto Hernandez will warm up the event with a unique fusion which could only be born in the Bay and which was recently celebrated at a very special SF Jazz performance celebrating his 60th birthday.  
In addition, there will also be performances from the standout 10-piece ensemble, Soltrón – who recently raised over $12,000 via Kickstarter to fund their forthcoming debut album.  Listen to Soltrón on Radio Coyote recently live From The Mission.
Finally, La Mecánica Popular will be bringing their infectious and experimental tropical groove live from the sweaty dance floors of New York City, where redlining and gentrification have reacheddangerous levels.  This is the group's Bay Area debut.  Listen to La Mecanica Popular's cover of Michael Jackson's Thriller via Wax Poetics.
JUST ADDED: Oakland via Cuba's DJ Leydis will be spinning on the 1s & 2s keeping it hot.
Standing in solidarity with community members of San Francisco's Mission District – DJ Leydis, La Mecánica Popular, Soltrón and John Santos – will lead us through a night of dancing and celebration of space.
Finally, for the first time ever, the event will be kicked off with a pre-concert art exhibition by local Latino visual artist Juan R. Fuentes, celebrating Cuba Libre and the opening up of diplomatic relations.
Encuentro del Canto Popular will take place on Sunday, December 6, starting at 6:00pm at The Chapel at 777 Valencia St, San Francisco.