Support ÌFÉ and learn more HERE
African-American musician and artist, born and raised in Northern Indiana – Mark Underwood aka DJ Nature aka Mark-O-Lino – has been living and creating in San Juan, Puerto Rico since the late 90's. He's been deeply engaged in Puerto Rico's music and art scenes; first as a player, lending his Hip Hop and Soul-influenced sounds to acts such as Cultura Profectica, Calma Carmona and William Cepeda. Later, as a music producer, creating albums and artwork for Mima, the now-defunct but influential hip-hop collective Ciencia Fixión, and contemporary reggae singer from the Island, Young Ragga.
ÌFÉ is Mark's latest production; an exciting new music project that will be his first as a solo artist. He's writing, singing and producing all the songs, plus designing all the visual components and working with a group of talented musicians to communicate the stories and messages directly to the people: Live, no codes, no filters, straight from his thoughts and lips to the listeners and viewers.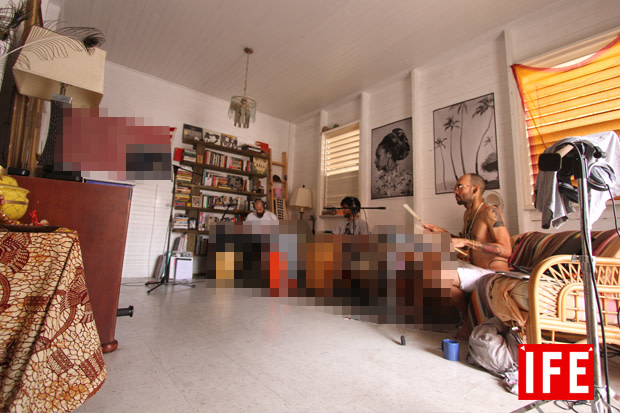 The intention behind the music is a profoundly beautiful one. From Mark himself:
"ÌFÉ is the Yoruban word for "Love," and at the same time, "Expansion." Both are pivotal themes in the music and the broader reasoning behind it. Love, as expressed both inward and outwardly, and as a creative point of departure… Expansion as breadth of creative expression and worldy experience vis-á-vis my "Culture Clash" of a life.  My influences and story are simply unique:  an African-American living in the Caribbean, learning Spanish and Yoruba, initiated as a Babalawo in Cuba, raised on Indiana funk, Texas blues and Indie Rock, Dallas Hip Hop and Soul, Salsa gorda de Puerto Rico, Jamaican Dancehall, Cuban Rumba, and the sacred music of the Orishas."
ÌFÉ has about a week left to raise $8,500 for their upcoming release and videos. There's tons of incentives like an exclusive DJ Nature mix specifically for the project, one-of-a-kind poster art and of course, the music! Support the project and learn more HERE. Follow Mark on Instagram too as Mark-O-Lino. Bonus points: Get into the spirit with this rare Fania mix from Mark, which is one of my favorites: