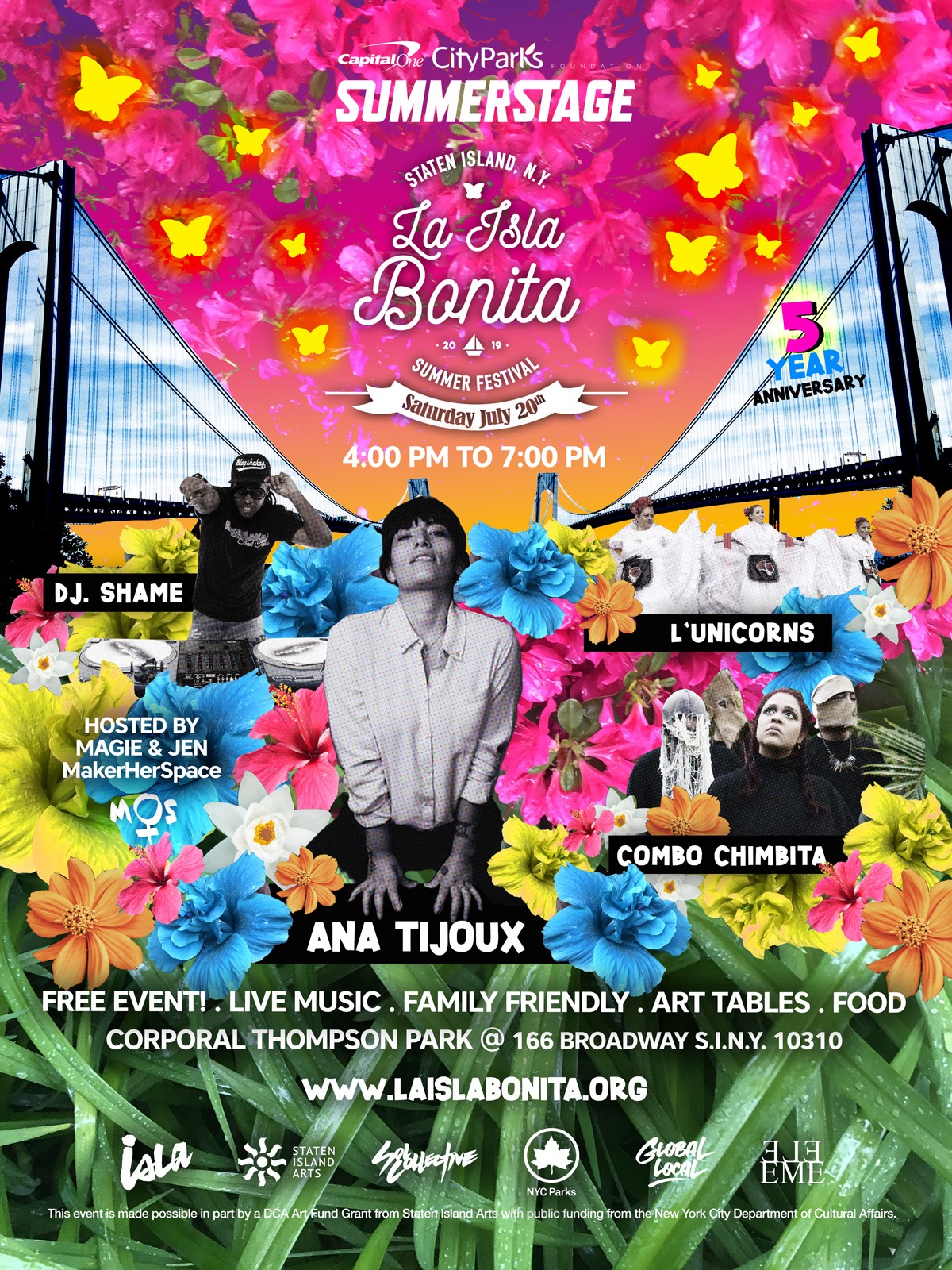 (Please note: The 2019 La Isla Bonita Festival was canceled due to the NYC Mayor's Declaration of a heatwave in NYC on July 20th. See the full note from the festival organizers, here!)
La Isla Bonita Festival
(with SummerStage) is back and celebrating 5 years of local and global arts, culture and activism on Staten Island! Learn more: 
www.islabonita.org.
Featuring: Ana Tijoux (Grammy nominated singer & rapper from Chile), Combo Chimbita (Young tropical Afro-Caribbean futurist sounds) and Staten Island's own L'Unicorns (LGBTQ folkloric dance troupe out of Port Richmond's La Colmena) and DJ Shame (on the 1s and 2s).
Artists showcasing work: Lina Montoya, Wannart, Nicole Trejos, Ashley Barrios, Audrey Greeneyes and more!
Staten Solidarity Promenade: Staten Island Women Who March, Move Forward Staten Island, Old Town Press, Five Borough Storytelling Project, Muslim Sisters of Staten Island, Staten Island Pride Center, Friends of Mariner's Harbor and others will be tabling!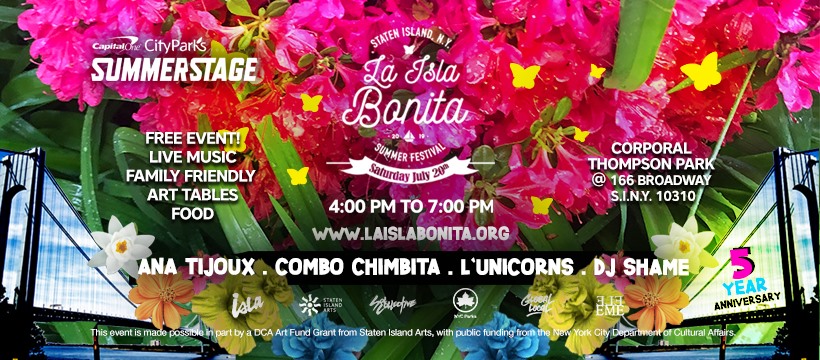 "
People don't think Staten Island is beautiful, but we want to celebrate the beauty that is here, in ourselves, our friendships and our community relationships. The ultimate goal for all of us is to create something that reflects us.
" –
Festival co-founder Nati Conrazon of 
Staten Isla
"
There are so many issues that everyone else is talking about — fights between people, racism, social justice issues. The festival is showing that even if we are different, we're in the same place. This is the perfect example of getting together and improving something
." – 
Festival co-founder Lina Montoya of 
LMP Project
"We need more events like this because it gives us motivation. It shows us why we're doing what we're doing. We want every day to look like this!" – Festival attendee, Krystal Sanchez