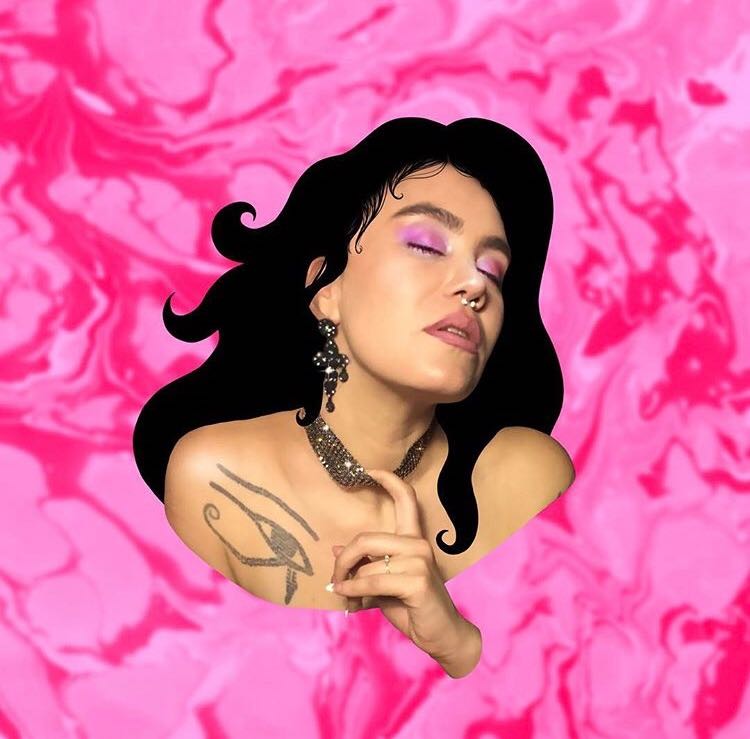 "I rule the world when my legs spread apart," pits Nani Castle on her highly anticipated debut album, SIN YORK, out today. Release party will take place in Brooklyn tomorrow, Friday February 22nd at Baby's All Right (RSVP).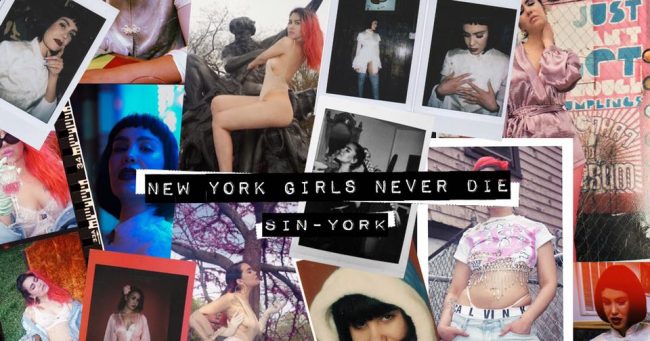 Get SIN YORK on Bandcamp, Spotify, Apple Music or Soundcloud
Produced by longtime musical partner Udachi, Castle offers up introspective and experiential lyrics across eight songs about surviving in New York City as young teacher and artist. SIN YORK – short for Staten Island, New York – is a love-hate story about her last year on the ever-changing and highly misunderstood borough which also happens to have birthed the notorious Wu-Tang Clan. In a style coined "working-class dance music," Nani keeps it real and rugged like the streets she commutes through every day to work — timbs and ballet shoes in tow — spewing sexy lyrical venom with intelligence, singing towards hope for a higher future.
SIN YORK follows Nani's critically acclaimed mixtape, "The Amethyst Tape" from 2015 as well as notable features on hard-hitting singles like Maluca & Nire's "Commie Mommie" (which NPR hailed "a feminist club anthem"), "Mujeres Malas" featuring Bomba Estereo's Li Saumet off the Grammy-winning album of pioneering Colombian singer Magin Diaz and Tony Quattro's "Fuerza" which was the lead single off of Skrillex's OWSLA compilation in 2017 and received commercial placements on VH1's "Love and Hip-Hop Miami," Comedy Central's "Broad City" and Yves Saint Laurent.
[Video] "Nu Year": youtu.be/heubZrlmCc0
[Video] "Silk X Silk X Silk": youtu.be/bAcOFsbg2G8
[Video] "Crying In The Dark": youtu.be/Mymx9pV3Zzc
A proud New Yorker, Nani was born in the Bronx and later moved to Staten Island where she grew up. Music has always been a part of her life. "My father is a musician, and [my] mother collected records and essentially put me on to classic rock, folk, soul and Latin Music from a young age," she said. Her older brothers also loved hip-hop, and that's where she discovered her love for the genre. "Once I heard the power that they elicited from freestyling and writing, I wanted in."
On SIN YORK, Nani weaves a story about heartbreak, change and redemption – both mourning and celebrating the daily New York grind on songs like "Old New York" and "7 Days" as well as songs of a more personal tenor, like her declaration of independence from fuck boys in "Nu Year," naysayers in "Charlotte" and the sensuous opus that is "Silk X Silk X Silk."
"SIN YORK is where I found my actual voice. This album is dedicated to the little basement studio on Staten Island: you saved my life. And to all the music I'll continue to make. My work is about being brave, standing up and saying the things others won't. My work is about love, it's about despair and redemption. It's about people, it's about power, it's about being disempowered and claiming my voice, my space," she said. Visit: www.nanicastle.net
SIN YORK – Nani Castle
Nu Year
7 Days
Charlotte
Silk X Silk X Silk
Crying In The Dark
In The Jungle
Old New York
All of The Women
Praise for Nani: 
"Chilean-American emcee Nani Castle grew up on Staten Island and brings an outer borough grittiness to the mix, combining crisp beats, with political lyrics inspired by her Chilean exile father, and a celebration of femininity and pussy power." – Remezcla
"Given the dire straits the world is in, Nani Castle carries a message of empowerment and standing up for yourself; preparing your mind and body for a fight of any kind, personal or political." – Complex Magazine
"Dubbed the 'Frida Kahlo & Zach de la Rocha of the rap game,' Nani Castle is a young lyricist out of Staten Island. She spits rough, venomous bars over dance beats, and, as a self-described educator, is all about bringing light to disregarded and misrepresented issues." – Cosmopolitan
"Nani Castle is succeeding at doing her own thing, and crafting her own unique sound in a world where there seems to be a lot of the same. She's a ferocious and introspective super emcee with a thousand flows and enough to get off her chest." – Fingers On Blast
"Now more than ever, we need the music and videos like Castle's and others like her to keep galvanizing us, to keep transforming our tears into weapons to take down the systems of white supremacy that killed Eric Garner, freed his murderer, and brought Trump into the White House." – Spark Magazine