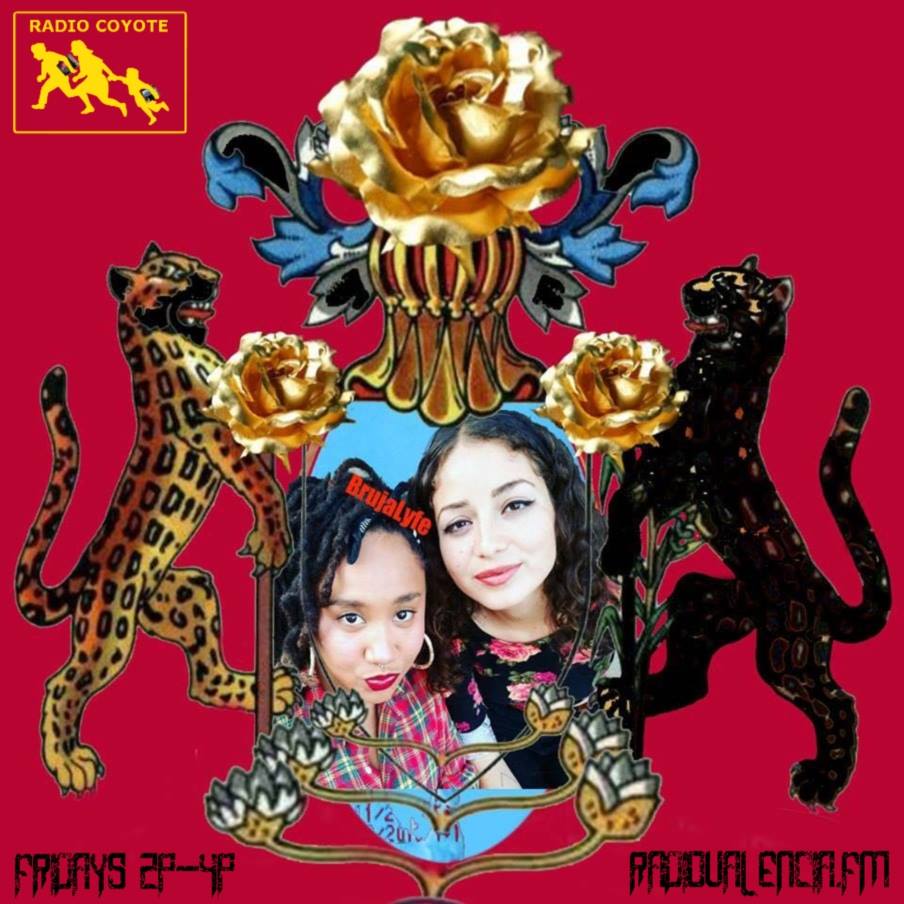 On this episode of Radio Coyote on Radio Valencia, we kick off with two tracks from ZZK Record's latest artist release Nicola Cruz paired with some Rafi-eL, Matias Aguayo-led project Rionegro and that new new from El Guincho.
The Genie – who we had for a live in-studio performance recently, have you checked it out? – gave us an exclusive new track featuring Oakland's Aima the Dreamer and Miss Hazel Rose. We also played tracks from Cartagena's tropical bass pioneer Pernett with his new single "Pajaritos," vintage Princess Nokia (who goes by Destiny now), World Hood and some indigenous power songs from A Tribe Called Red – including a new one with Bay Area artist & rapper Kool AD.
We rocked some parodies – including hearing from Abuela's favorite spiritual advisor Walter Mercado – based on current events like the Trans-Pacific Partnership and #BoycottTrumponSNL because it's cool to care, kids!
We couldn't get enough of the new Santigold single off her upcoming album "99¢" or Mexican indie-pop reina Carla Morrison's new one, "Un Beso" or Los Angeles crooner, Irene Diaz! We cross the border with Cuban pianist and Quincy Jones protege, Alfredo Rodriguez before our radical chat with Guanajuato-Born, Oakland-based rapper & educator, CHHOTI MAA.
She and MADlines make Brujalyfe and this Sunday is their inaugural BRUJAS YOU COULDN'T KILL show at The New Parish with WORLD HOOD (Sacramento), SUZI ANALOGUE (Never Normal Records, Brooklyn) , DJ NAMASTE SHAWTY & DJ MUJIE playing the JAMS, BRUJALYFE (MADlines & CHHOTI MAA, HADEEL RAMADAN aka Coca Blu! Support your local Brujas!!!!!
Your Weekly Fayuca
Eclipse by Nicola Cruz
La Mirada by Nicola Cruz
Colapso by Rafi eL
Carruseles by Rionegro
Trances Pt 2 (excerpt) by El Guincho
El Pajarito by Pernett
Space Machine (Ride, Ride, Ride) by Fania All Stars
Swag Shit by Eureka The Butcher
Mundo Libre by World Hood
Yaya by Princess Nokia
All Day ft. Kool A.D. And Chippewa Travelers by A Tribe Called Red
A Tribe Called Red by Angel Haze
You Can't G. A G. by Dio Gahndih
Focused on a New Path by Chhoti Maa
Got You Hooked ft. Aima the Dreamer, Hazel Rose, Masia One by The Genie
Donald Trump Prediction by Walter Mercado
TPP Corporate Power Tool of the 1%
Can't Get Enough of Myself by Santigold
Un Beso by Carla Morrison
My Sweetest Sin by Irene Diaz
Miti Miti by Diego Lorenzini
Crossing The Border by Alfredo Rodriguez (Live Clip)
Cornerstore Blues by Nenjah Nycist