PHEW.  I looked back on my SXSW 2010 and 2011 to prepare for SXSW 2012, but nothing could prepare me for the madness.
Looking back on the schedule I sent out to my industry list (laying it out below), I could not anticipate que locura the experience would be.
Unlike the last 3 experiences at SX, I probably got to catchup/hang with fewer people, but all in all – this year's SXSW was super productive and accomodations-wise super comfty (considering my first year I crashed a couch in South Congress – this is progress!)
With a view of the river and a full schedule…shit got really real.  Much love to the crew who did hang tight: Maribel, Arlene, La Nono, Stefanie, Richard, Matt Sonzala, Javier, James, Eddie, Paul, Kelli Love, Kush, Olmeca, Rich Garza, Thomas, Joey Cap, Benamin, Kim, Clarence, Canyon, Ian Morales, Estella Sanchez and many more!  Can't capture it as elegantly given the madness, but here's a snapshot:
LOS RAKAS SXSW 2012:
WED 03.14 @ Puma Social (1309 East 7th St)
WED 03.14 @  *Official Showcase @ Flamingo Cantina
THU 03.15 @ The Illmore (Presented by ILLROOTS & Scoremore)
THU 03.15 @ Peligrosa Showcase @ Chupacabra (400 E 6th Street)
FRI 03.16 @ Austin Vida & Peligrosa Day Party @ Jovita's
SAT 03.17 @ Ineffable Music Showcase @ Venue 606
SAT 03.17 @ Art Culture Activism @ Diverse Arts (E. 11th Street)
ZUZUKA PODEROSA SXSW 2012:
WED 03.14 @  Mint Collective Day Party @ Malverde (400b W. 2nd St.)
WED 03.14 @ New Gyration Presents Pump! @ The Loft (718 Congress)
WED 03.14 @ Little Owl Recordings Showcase @ The Korg Stage
WED 03.14 @ Rusty Lazer & Chaos ("Uzi Bazooka") @ Hotel Vegas
THU 03.15 @ Broken Teeth Day Party @ Plush (617 Red River)
THU 03.15 @ Peligrosa @ Chupacabra ("Uzi Bazooka")
FRI 03.16 @ Austin Vida Day Party w/ Kush Arora @ Jovita's
FRI 03.16 @  *Official Showcase @ Speakeasy Kabaret (412 Congress)
SAT 03.17 @  Art Culture Activism @ East 11th St Art Park
SAT 03.17 @ SATX w/ Ritmo Machine San Antonio @ Limelight
OUTERNATIONAL SXSW 2012:
SUN 03.10 @ 35 Denton in Denton, TX (w Maku Soundsystem)
WED 03.14 @ *Official Showcase @ Flamingo Cantina
THU 03.15 @ Fuse TV (acoustic) @ Driskoll Hotel (604 Brazos St)
FRI 03.16 @ Jail Guitar Doors Showcase w/ Tom Morello @ Swandive
SAT 03.17 @ Art Culture Activism @ Diverse Arts
SAT 03.17 @ D'Addarrio/Swinghouse Unofficial Show @ Rusty's
SUN 03.18 @ Headhunter's Day Show (Across from Stubb's)
BLITZ THE AMBASSADOR SXSW 2012:
THU 03.15 @ SXSW City of Austin Day Show @ Austin City Hall
FRI 03.16 @ Spinlet All Africa Showcase @ Beso Cantina
Los Rakas SXSW wrap-up with footage of shows:
"From the moment they took the stage, it was clear why Los Rakas are building a reputation as a rap group that absolutely kills it live on stage. By the end of their set, the cozy confines of the Flamingo Cantina was shaking with the energy of the bilingual MCs, who represent Panama by way of Oakland. Decked out in Oakland Raiders caps, the duo rhymes mostly in Spanish, crisp, clean raps over heavy, dancehall infused beats. The MCs flowed lovely in Spanish over the beat from Snoop Dogg's Ain't Nuttin But a G Thang and had the sometimes sedate SXSW crowd screaming for more: "Get your hands up, en el aire!" – Austin 360
Chillin' at #ArtCultureActivism
Los Rakas got work in for their upcoming summer release, Raka Party: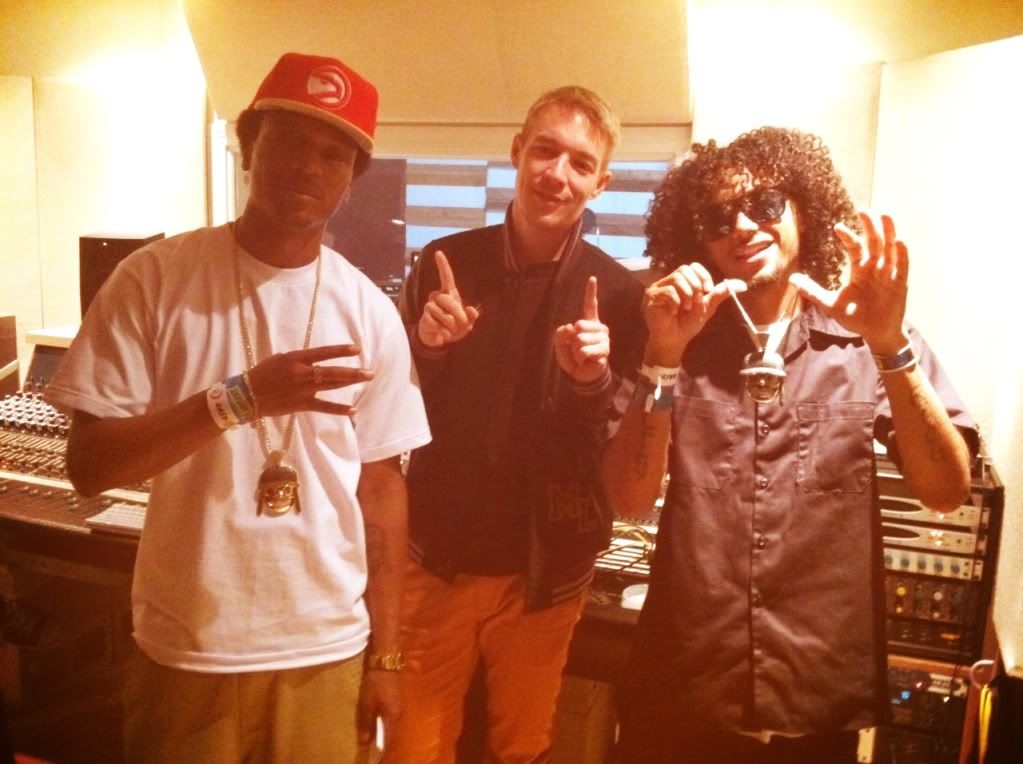 "So much great energy from both performers and audience. These guys had us all dancing as they spit rhymes and navigated through beats from Dr. Dre to Kreayshawn. What was even more surprising was how many people were mouthing along to the lyrics (good to know i'm not the only one who's memorized a few verses from their version of "Gucci Gucci")." – Club Fonograma
Zuzuka Poderosa live @ Jovita's (ATX) – watch video
The San Antonio Current said Zuzuka Poderosa was 'Most Likely To Steal The Show' at her SATX debut…this photo by Dtronik will answer the ? of whether she did or not:
Call the Firefighter!
…after we kicked it with Psycho Realm, Eric Bobo and Bitman of Ritmo Machine
and ate the best quesadilla ever to be parked next to a 'Hardbodies'
Outernational was doing what they do, stirring up moshpits and consciousness.
"We did not come here to be discovered, cuz we ALL been found." – Miles Solay
"Everyone go outside, there's a rock show going on!" a tipsy woman exclaimed from the inside of The Labb. Luckily for the patrons, this rock show was far more entertaining than anything that was going on indoors. The word "energetic" doesn't quite fit, seeing as Outernational were an explosion of take-no-prisoners socially conscious latin rock, with the lead singer Miles Solay preaching to the crowd in a moment that seemed very similar to Sirus' speech in The Warriors. Solay's dancing was unreal, a combination of kicks and jumps that would tire out a normal human being in five minutes, but Solay kept it going for the full set. Energetic? Psh. Outernational is electrifying. – Chelsea Upton for 35 Denton
Leo & Miles of Outernational LIVE from Flamingo Cantina
Over at Beso Cantina, Blitz the Ambassador absolutely rocked a packed house – very memorable show!
"Playing at Beso Cantina to a capacity crowd comprised largely of African ex-pats Blitz, who takes his role of ambassador seriously, paid tribute to the African greats who came before him, calling out stars like Fela Kuti and Miriam Makeba as his band did credible takes on their works.He also led the audience in a simple African dance move. His rhyming was on point. He drops complex wordplay with the passion and focus of a man on a mission. In post-Internet America, the cultural mashup that has always been our nation's experiment has the potential to grow more vibrant than ever. Blitz the Ambassador spits fire, as if he deeply believes that by spreading the wisdom of his transcontinental journey he can somehow change the world. And listening to him, in front of that amazing band, fueled by pure heart, you can't help but get behind him." – Austin 360
Highlights:
-santigold at faderfort with full-on #browntourage
-river sounds
-mobb deep
-the park's jam session/bbq on sunday night
-xylophone-bass r&b avant garde band at maggie mae's friday night at 1 AM – WHO ARE YOU!?
-3ball mty @ nacional records & friends showcase
-alabama shakes at moody theater
-meeting gary clark jr. & hearing his set from hotel room as sun set
-monsieur periné
-blitz the ambassador at beso cantina
-outernational at headhunter's
-zuzuka at limelight (SATX)
-los rakas at puma social
-wholly cow burgers
-las cazuelas
-spin magazine day party at stubb's
Oddlights:
-50 cent hoopla and a band that played half the time
-juanes appearance (UH WEIRD)
-doritos stage, myspace house, mesh bodysuits, naked cowboy
-band orgy
-austin airport on monday morning